Expression and variety in science communication
Expression and variety in science communication
---
Hosts: Aaron O'Dea and Suzette Flantua
Artists and researchers from around the world bring unique approaches to disseminate science
Description:
Science communicators use a variety of media and approaches to effectively bring scientific discoveries and concepts to non-scientists. At the heart of them all lies engaging storytelling.
In this session we will be joined by a selection of enthusiastic artists and writers skilled in telling science stories in their own unique way.
Using examples from their work, each speaker will present for c. 15 mins followed by time for questions. A general discussion can develop after all talks are finished.
Speakers:
Ian Cooke-Tapía (www.cookedillustrations.com): Ian is an artist and illustrator who combines storytelling, illustrated visual materials and a level of interactivity to improve audiences' relationship with scientific subjects. Ian will talk about how researchers and artists can collaborate to develop unique stories that engage audiences at an emotional level. He will showcase the upcoming children's book Martina and the Bridge of Time, coauthored with paleobiologist Aaron O'Dea, which sees Martina — a young and adventurous panamanian — discover the history of her homeland.
Julia Heinen: Julia is a PhD student at the Center for Macroecology, Evolution and Climate, University of Copenhagen, (Denmark) and has worked on tropical islands. An example is Mauritius where the now extinct Dodo resided. Through the years she has collected a fine set of videos about her expeditions. In today's talk she will highlight the key components of making fieldwork videos and their usefulness of such media for science outreach.
Beatriz Diaz Pauli: Beatriz is a researcher from Bergen University (Norway) and studies the anthropogenic causes of contemporary evolution especially due to fishing. She will discuss the process of writing and publishing a science article for kids: https://kids.frontiersin.org/article/10.3389/frym.2020.00112. Not only was this article written for young minds, but also reviewed by kids!
Catalina Giraldo (https://www.catalhinagiraldo.com): Catalina is an environmental visual artist who also graduated as a biologist. She will discuss the process of making a short film using 3D animation, photography, and video and showcase one of her films (https://youtu.be/-Wcp18vBDK4) which transformed complex scientific concepts into engaging media. This film is now also the official selection for several international environmental film festivals. Original paper: https://doi/full/10.1111/jbi.13607.
Carlos Guarnizo: Carlos is an expert in neotropical frogs and creator of the independent Science Communication initiative Ciencia Café pa' Sumerce (https://cienciacafesumerce.wordpress.com/). This popular platform uses live interviews with scientists, short videos and articles, interactive maps, and music in an engaging format to bring people in Colombia and adjacent countries closer to science.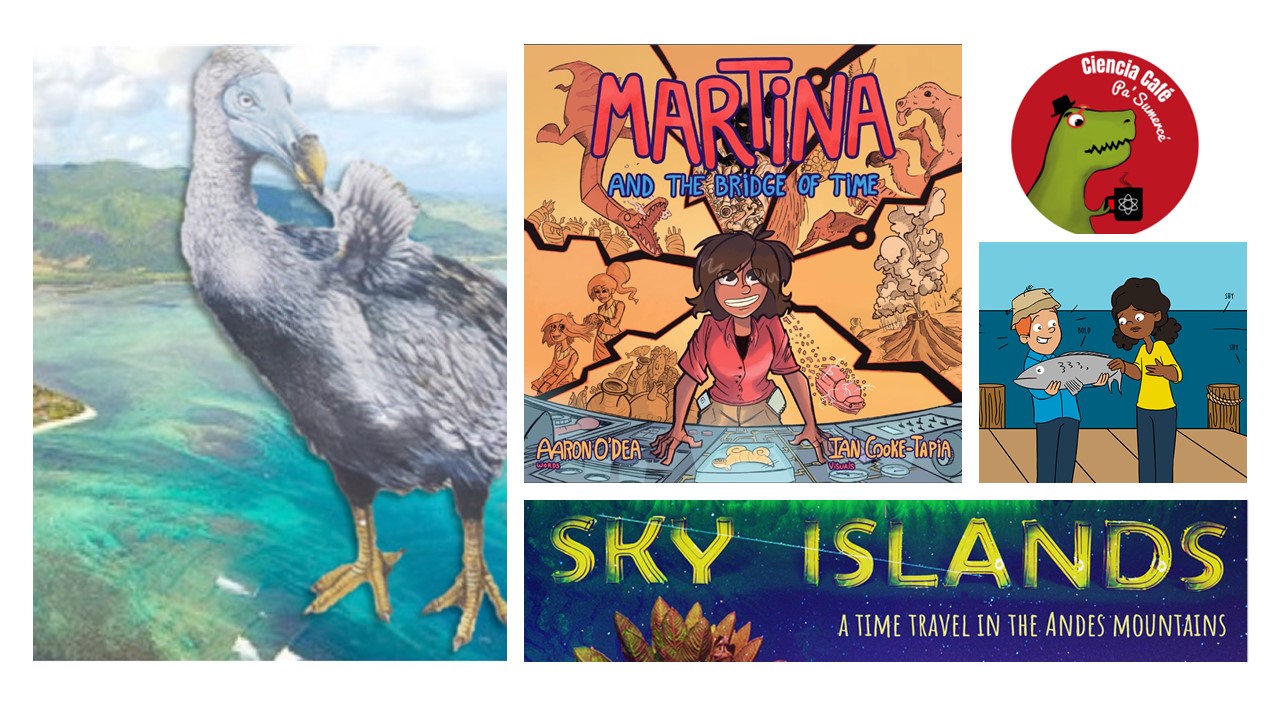 September 15 @ 08:30
Central America, Panama, Panama CIty
Aaron O Dea, Suzette Flantua