Sobre el estudio de montanas y rios: el legado de Humboldt en las ciencias naturales y humanidades de Colombia/On the study of mountains and rivers: Humboldt legacy in Colombian natural sciences and humanities
Sobre el estudio de montanas y rios: el legado de Humboldt en las ciencias naturales y humanidades de Colombia/On the study of mountains and rivers: Humboldt legacy in Colombian natural sciences and humanities
Hosts: Universidad de los Andes, Departamento de Historia del Arte; Co-Host: Natural History Museum and Garret Herbarium of Utah.
Language: Spanish, (with ability for Q&A in Spanish & English)
Talks:
Felipe Lamus Ochoa (MSc, Departamento de Fisica y Geociencias, Universidad del Norte): Curiosidades mineralogicas descritas por Humboldt en Nueva granada (Mineralogic curiosities described by Humboldt in Nueva Granada).
Natalia Lozada Mendieta (PhD, Departamento del Historica del Arte, Universidad de Los Andes): Los viajes de Humboldt por el Alto Orinoco y su influencia en las investigaciones arqueológicas actuales en la región (Humboldt's journey to the Upper Orinoco and its influence in the current archeological research in the area).
Rafael Gasson, PhD. Departamento de Historia y Ciencias Sociales Humboldt y las Construcciones Indígenas de los Llanos. (Humboldt and the Indigenous' constructions in the Llanos)
Verónica Uribe Hanabergh (PhD, Departamento del Historial del Arte, universidad de Los Andes): El pasaje más difícil de toda la Cordillera de los Andes: Alexander von Humboldt, la pintura de paisaje y las montañas de Colombia (The most difficult passage in the entire Cordillera of the Andes : Alexander von Humboldt, landscape painting and the mountains of Colombia).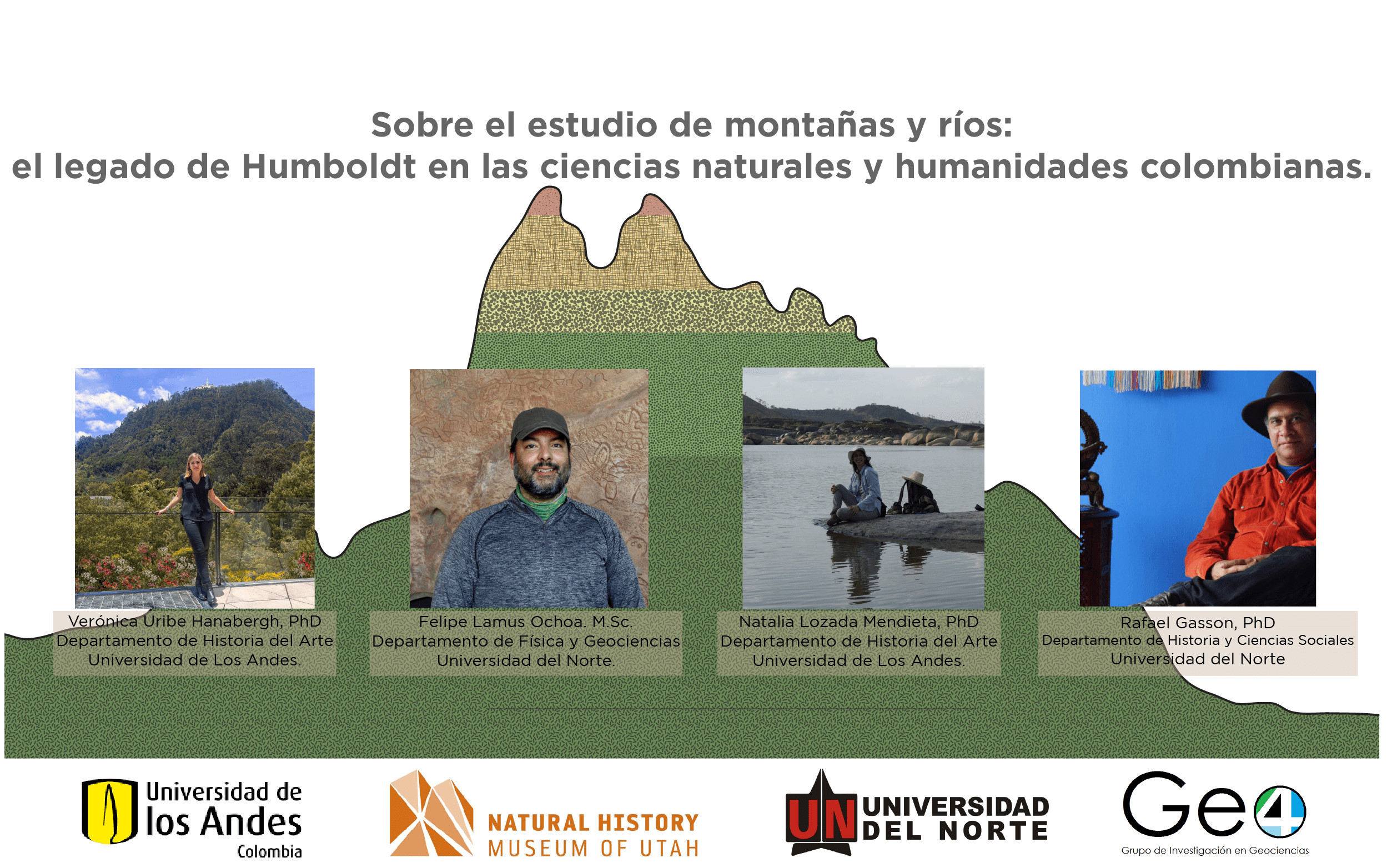 September 18 @ 15:30
Bogota, Colombia, South America
Susana Velásquez-Franco