Humboldt, Islands & Horticulture
Humboldt, Islands & Horticulture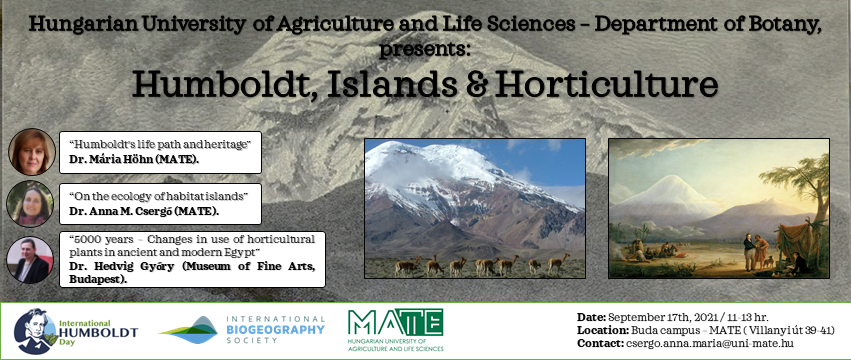 Humboldt, Islands & Horticulture
745
745 people viewed this event.
In this session we will recall the most important moments of Alexander von Humboldt's life and expeditions, and how his pioneering work has transcended into different areas of science. Humboldt was a popular speaker at the time, and we consider one of his important legacies the recognition of the importance of science dissemination to the large public.
We talk about the ecology of habitat islands, a hot topic in biogeography and ecology. Habitat destruction and degradation has reached unprecedented levels in human history, and ecologists are pressed to understand whether and by what mechanisms plant and animal species survive in habitat fragments and habitat islands. We will overview the major tenets of island biogeography and how we investigate isolation syndromes in boreal temporary ponds and kurgans of the Carpathian Basin.
Finally, we will talk about how major climatic shifts in climate can affect the sources of food and other ecosystem services, and with this, the course of horticultural practices. We bring the example of the flora of ancient Egypt that has undergone significant changes in the past 5000 years.